XVII NIEDZIELA ZWYKŁA, Rok C
Szczegóły

Utworzono: sobota, 27, lipiec 2019 13:29
ks. Krzysztof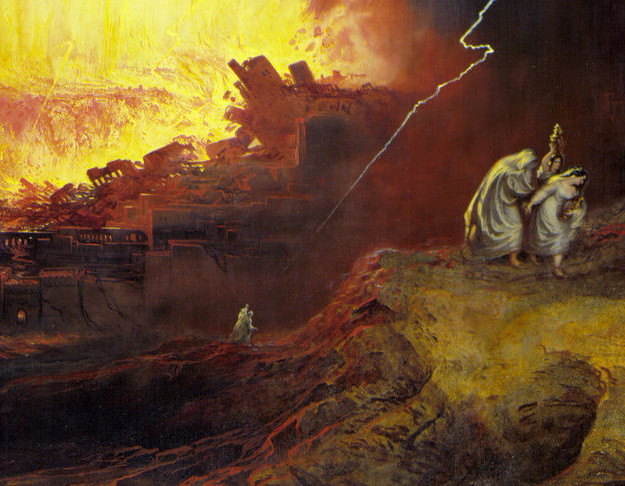 Sodoma i Gomora na zawsze kojarzyć się będą z rozwiązłością i karą za niechęć do nawrócenia, za zatwardziałość serca, za próbę wciągania innych, Bogu ducha winnych, w swoje grzeszne praktyki. Kto czytał historię Lota i tych, którzy przybyli w gościnę do Lota, ten wie, jak bardzo zdemoralizowane było to miasto, do czego zdolni byli mieszkańcy Sodomy. Tak wielkie było zdeprawowanie mieszkańców Sodomy, że dopiero cudowna interwencja przybyszów, porażenie ślepotą uratowało zarówno gości jak i samego Lota oraz jego córki. Niestety wydaje się, że historia zatoczyła kolejny raz koło, a ludzie nie chcą się uczyć na błędach poprzednich pokoleń. Dzisiaj na nowo z fantazją, rozmachem i beż żadnego wstydu odbudowuje się Sodomę i Gomorę, wmawiając wszystkim, że dzieje się to w imię nowoczesności i europejskości. O nierozumni...

1) W poniedziałek wspomnienie św. Marty, w środę św. Ignacego z Loyoli, w czwartek św. Alfonsa Marii Liguoriego.
2) W tym tygodniu I piątek miesiąca (szczególne przypomnienie dla kandydatów do bierzmowania i dzieci po I Komunii św.) O godz.10.00 msza św. w Mątkach, potem w DPS Jonkowo. Wieczorem od 17.30 spowiedź I-wszo piątkowa i o 18.00 msza św. Przypominam, że w I piątek m-ca można uzyskać odpust zupełny za nawiedzenie jakiegokolwiek kościoła i pobożne odmówienie tam "Ojcze nasz" i "Wierzę". Oczywiście ważne jest, aby być po szczerej spowiedzi św.
3) Z czwartku na piątek (1.08 na 2.08) już po raz trzeci będziemy gościć na nocleg pielgrzymów idących z Lidzbarka Warmińskiego do Gietrzwałdu. Będzie ich ok 40-tu. Proszę, aby dzisiaj po mszach św. lub od poniedziałku do środy włącznie, zgłaszać mi, kto mógłby wziąć do siebie pielgrzymów i ich przenocować. Nie zawsze my sami mamy możliwość uczestniczenia w jakiejkolwiek pieszej pielgrzymce, więc przyjęcie pielgrzyma na nocleg jest wielkim wsparciem i poniekąd współuczestniczeniem w trudach pielgrzymowania. Prawdopodobnie pielgrzymi przybędą tradycyjnie ok. 18.30.